October 10th, 2023 | Students & Alumni
Elijah's Transformative Journey
In the heart of Augusta, Georgia, Heritage Academy stands as a beacon of hope for families seeking a nurturing environment for their children. Nicole, a resilient single mother, found solace in the form of a scholarship from Arete Scholars that enabled her youngest son, Elijah, to embark on a transformative journey from kindergarten through 8th grade at Heritage Academy.
From his early days, Elijah was a quiet and reserved child. Recognizing the need for personalized attention, Nicole chose Heritage Academy, where teachers are dedicated to each child's individual learning needs. Teachers immediately recognized Elijah's potential and worked diligently to pull him out of his shell. Understanding Nicole's dedication to Elijah's well-being, his teachers also took time to reassure her, often pulling her out of the school pickup line to give her a hug and say, "We got this," and "he's doing great!"
While at Heritage Academy, Elijah discovered his passion for athletics and became an integral part of the football, basketball, and track teams. Through sports, Elijah encountered Coach Robinson, a mentor who played a crucial role in shaping his character. Even after Elijah graduated from 8th grade and went on to a new school, Coach Robinson remained a presence in his life, playing ball on Sundays and attending Elijah's high school games.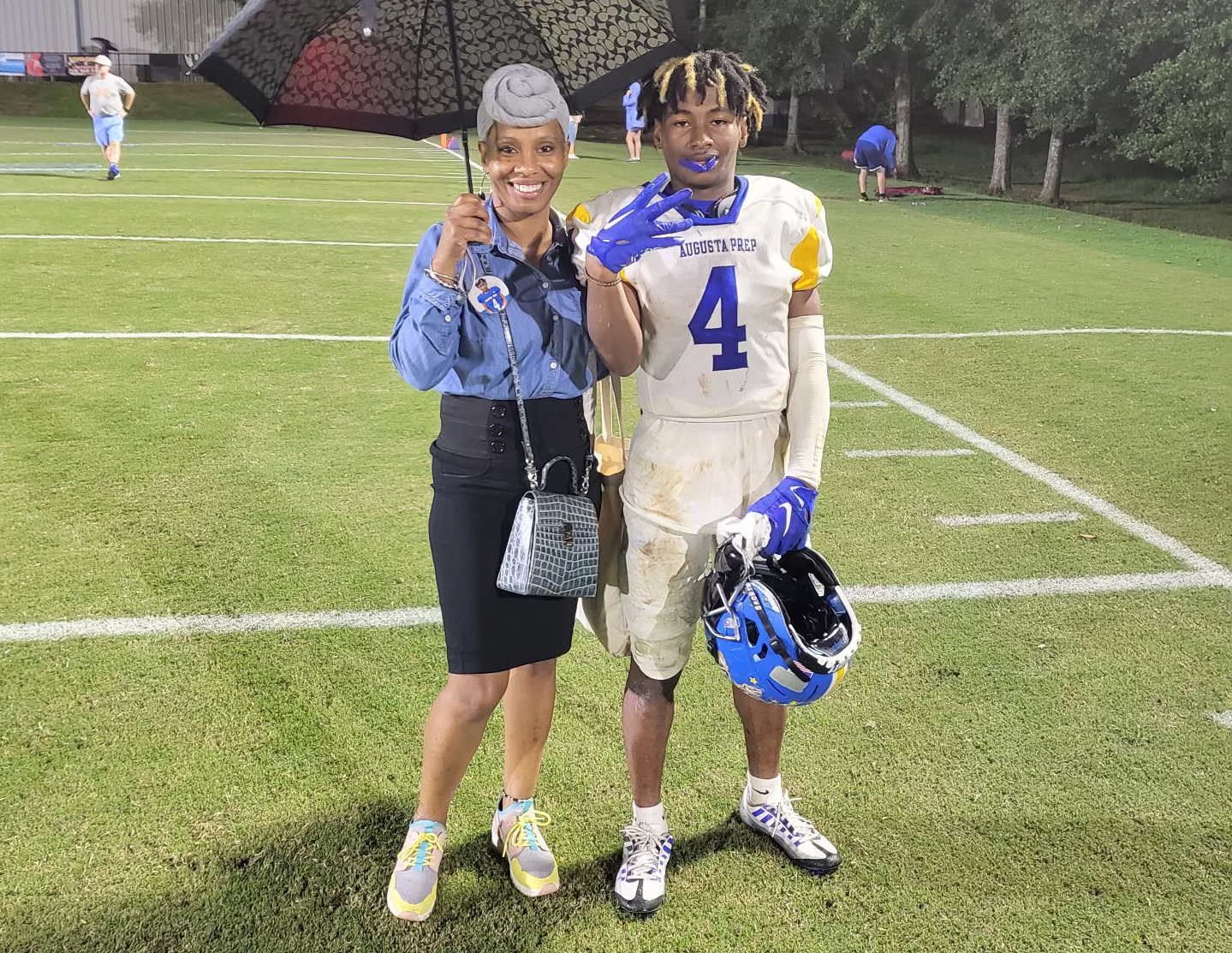 Elijah and his mother, Nicole, on the field after a high school football game.
Elijah transitioned to Augusta Preparatory Day School for high school, and became the first student to receive a Giles Scholarship—a full-tuition, merit-based scholarship. His mother credits Heritage Academy for laying the foundation for his academic and personal success. Now a high school junior, Elijah contemplates a future in engineering or computer science, exploring the boundless opportunities that education and mentorship have afforded him.
Nicole witnessed firsthand the transformative impact of Heritage Academy on Elijah's life. Grateful for the support they received through the Arete Scholars program, she attested, "Without Arete, Elijah would have gotten lost in the shuffle. He wouldn't have teachers to push and help guide him." Heritage Academy not only provided Elijah with a solid academic foundation but also helped him emerge from his shell, transforming him into a respectful and engaged young man.
This video of Elijah was filmed in 2016. Today, he is living his childhood dream.
Inspired by the positive change she witnessed in her son, Nicole decided to join the Heritage Academy team. Starting as an assistant when Elijah was in 3rd grade, she worked her way up, becoming a teacher and eventually the Assistant Director of Heritage Early Learning Academy. For Nicole, the joy lies in witnessing the growth of the children she serves. "From babies to K4, they come in so excited," she beams, "My biggest joy is seeing the children grow."
The story of Elijah and Nicole is a testament to the profound impact of an Arete scholarship, dedicated educators, and supportive communities. Through Elijah's journey, Heritage Academy became not just a school but a lifeline, fostering growth, resilience, and dreams for a brighter future.